An (other) attempt to operate portable
This is me with the usual luck that I have (which is not limited to amateur radio).
The plan #
I actually wanted to go way higher, but I did not felt like it so I decided on my way to stop at a nice place and setup my 20m dipole at a clearing.
There is a nice view over Längenfeld (looking south, south-west).
The setup #
After a few minutes of just sitting there and relaxing, enjoying the view and nature, as is, I setup the antenna. I had to re-adjust the length a bit to get it down to somewhat 1.1-1.3:1a. I usually just put a leg on the mast and put the other one on the ground, which works ok most of the time.
Listen, listen, listen (and listen if you can't transmit) #
I usually listen for a while before I start calling CQ and most of the time I first answer others people calls – but when I tried to call a station from EA I wasn't very successful. Yeah, move on, my setup is just crap and he won't hear me. Tried another station but my call was interrupted by the other station whilst I was still talking, that made me a bit suspicious. Another try and this time I looked at the power meter of the TX-500: 0W. On a second view I saw the transceiver was not switching to TX. Tried a few times more, power off, power on but nothing really happened.
I finally gave up and spent probably half an hour with SWL :)
Back at home #
Back home, I already thought it might be the mice (it actually doesn't look very sturdy) so I went into my all-purpose-room and cut off the plug, opened it and I quickly saw the faulty white wire.
That white wire belongs to the pin in the middle, so I decided to remove all the other pins too to get better access to that pin.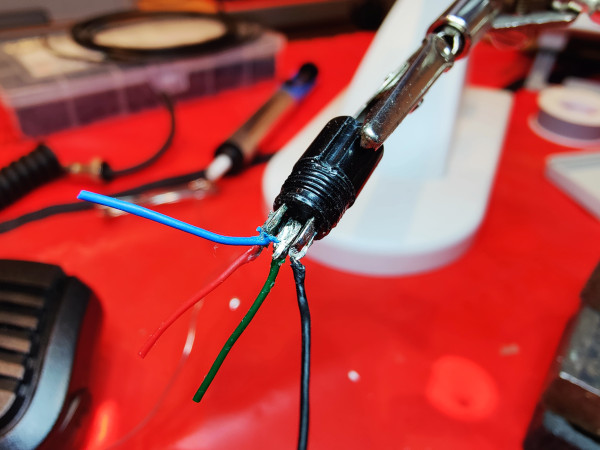 The plug is small and I already wanted to throw everything away but somehow I got all the wires soldered to the plug and it worked.
Finished with some shrink tubing (which I usually have mixed feelings about using them) and it is now able to TX again.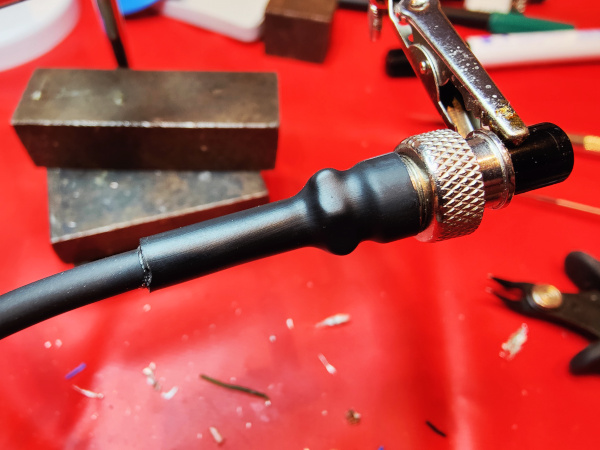 Fin #
The mic works again, but meanwhile (it is now mid of February already) I got another nice replacement for the mic: I ordered a clip-on microphone that I can use with the adapter set made by W2ENY.
I can just recommend the adapters made by Robert, W2ENY.
I think the original PTT adapter only works mono, Roberts delivers stereo sound.